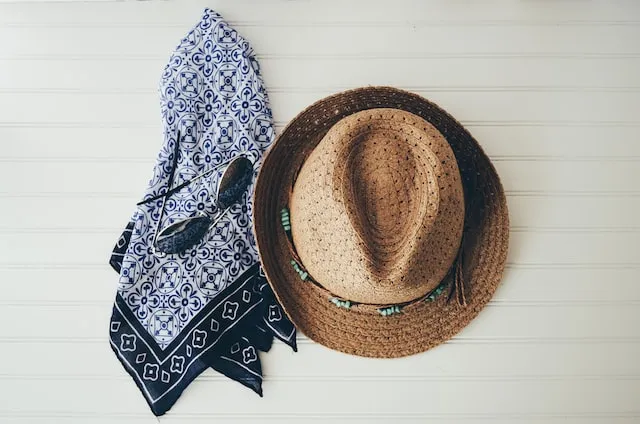 l Intro
A straw hat is a hat woven from straw-like synthetic materials. Designed to shade the head and face from direct sunlight, but are also used in fashion as a decorative element or a uniform. They protect you against the sun. While preparing for your summer vacation, try adding some straw hats to your package; they are really for summer!
l What Are Straw Hats Used For?
The straw hat was initially created to protect the wearer's eyes and face from the sun, but it is often worn simply as a fashion statement.
A straw hat doesn't just give you a stylish yet cute look and helps you protect your head from the harsh rays of the sun. Now let's get acquainted with the type of straw hats.

l 8 Types of Straw Hats
1) Lifeguard Straw Hat
Definition: A lifeguard hat is made with thick, high-quality natural straw lightly woven around the Crown.
Material: Wheat straw, hollow grass, bulrush
Function: Comfortable fit and features an adjustable draw cord chin strap with a toggle to customize your fit and a lined headband for comfort.
Durable and comfortable to wear, making this a perfect outdoor item. The printed fabric is under the brim for added sun protection.
Occasion: beach, yard, or adventuring outdoors
(Hand Wash Only)
2) Boater Straw Hat
Definition: It is commonly made with hard straws. This style is easy to identify with its rigid flat brim and crown. The boater style was a famous men's choice, but nowadays, it is popular amongst women.
Speaking of terminology, the boater is also known by a wide variety of other names, including the basher, the skimmer, and the sennit hat, among others.
Material: typically made of stiff straws, they look unique with their rigid, flat brim and Crown
Function: High-quality interior elastic sweatband makes for a comfortable and secure fit while keeping your forehead dry.
They were regarded as warm-weather hats in the days when all men wore hats when out of doors. "Straw Hat Day," in the USA, was when men switched from wearing their winter hats to their summer hats. It was seen as a sign of the beginning of summer.
Occasion: Lounging at The Beach, During, Hunting, Hiking, Clubbing, traveling, Outing, Picnic, Camping, Or Casual Outfit. Also Great For 1920s Themed Party, Casual And Formal Events, And Other Vintage Style Occasions.
3) Cowboy Straw Hat
Definition: The cowboy straw hat is a high-crowned, wide-brimmed hat best known as the defining piece of attire for the North American cowboy.
Material: Made from 100% raffia straw, which is comfortable, environmentally friendly, and retains the perfect shape. Wire brim on edge makes it shapeable to your desire. Great for everyday casual wear or as a costume accessory.
Function: Sun protection. The wide brim can provide a perfect shade to your face and help protect you from the Sun's rays. Popular with outdoor workers, concert-goers, and weekend explorers alike.
Occasion: Keep healthy forever!Perfect straw hat for beach, summer sun hat. Includes a sweat absorbent inner band for added comfort; a Wide brim helps shield & block harmful sun rays from the eyes & face; Great for everyday casual wear or as a costume accessory.
4) Floppy Straw Hat
Definition: Floppy hats have wide circular brims. The Crown is usually unformed. The brims often measure between 4 and 6 inches.
Material: Natural paper straw, 100% Natural papyrus
Function: Floppy hats are famous for their protection against the Sun because they usually come with extra wide brims.
A floppy beach straw hat has a brim ranging around 5 to 10 inches. And that means you can trust a floppy hat to protect your bare neck and shoulders from the blazing Sun.
WithSunde Brim Flap Cover on this cap, adding stylish&cool Style, leading to the fashion top trend. Lightweight, comfort&protective sun cap hat for use in Summer, Autumn, and Spring.
Occasion: beach, boating, vacation, park or pool, hiking, camping, gardening, traveling, tourism, weekend getaway, honeymoon. A good gift for girlfriend and mom on Valentine's and Mother's Day.
5) Bucket Straw Hat
Definition: The bucket hat is a very flexible and compact type of hat. It is generally made of different materials, from cotton to wool. Its design has a hanging wing that falls in front of the face. This is designed to protect the wearer from the Sun. WhilSunucket straw hat is a bucket shape hat with a brim made of straw.
Material: Straw, Hand-woven raffia, seagrass, palm leaves
Function: sun protection, light and airy Style it differently by pulling the brim all down or rolling it up. Also, the foldable and adjustable design can easily be packed away and carried in the pocket.
Occasion: traveling, beach (not to mention your daily endeavors)
6) Fedora Straw Hat
Definition: Fedoras are hats with a pinch in the crown and a soft brim. The caps are often associated with fashion, and quite a few celebrities, from Brad Pitt to Harrison Ford, have embraced the sophisticated look.
Men's straw fedoras are simply fedoras made from straw, which is a durable and popular material for hats since it can bounce back into shape even after being crushed. Straw has the versatility and comfort you want in any hat.
Material: Paper Straw, nylon, rush, bamboo, seagrass, jute
Function: Women's and men's straw fedora hats have wide brims to protect the wearer from the elements (particularly the Sun). HowSunr, the broad, breathable stitching ensures that these hats don't become uncomfortable in hotter climates.
Occasion: park, church, race events, traveling, and many outdoor activities
Matching: wear it with jeans, shirts, or jackets in a modern city, dress in Style.
7) Panama Straw Hat
Definition: Made from tightly interwoven toquilla palm, it is referred to as the Toquilla straw hat. The toquilla straw is often relatively light in color, which gives the straw hat a light color.
Material: Toquilla grass
Function: Sun Protection--Summer hat is a vital Anti-UV Function, a perfect shade for your head, face, and neck. Straw hat help protects you from the Sun's harSun'srays.
Occasion: outdoor activities, such as beach, pool, garden, fishing, trip, travel, etc.
8) Visor Straw Cap
Definition: The Visor Hat is a hat in Among Us, obtainable through the Innersloth Cosmicube. The Visor Hat is a green, open-top hat with a visor curving downwards. The Visor Hat resembles the hat worn by The Shopkeeper, a character created by Marcus Bromander.
While a visor straw cap has a partial brim that extends out in front of an adjustable band that goes around the head, it is also made of straw.
Material: Paper straw, Polyester, Milan straw, blue paper braid, raffia, wheat straw
Function: Protect your skin and shade your eyes with a stylish visor hat. These adjustable and breathable visors are comfortable to wear and will allow you to protect yourself in Style. For superior protection, grab this stylish, oversized visor. For excellent protection, grab this stylish, big visor.
Occasion: travel, hiking, farming & gardening, or even daily use. It's a perfect beach hat in summer for paddle boarding or boating.
l Sum
Hats are not just something you wear casually, but they are accessories to your outfit. Keeping the properties and design in mind, you can decide what suits your style best.
A great way to protect yourself is to pack a sun hat, ideally something that will offer sufficient coverage for your face. (You'll want to look your best when you travel!
Any ideas about our straw hats? Please comment below and let us know! And we would like to learn more about what you're thinking!!